I have been writing in this newspaper for two years about coronavirus. Every week I have dedicated myself to unraveling the mysteries of masks, hydroalcoholic gels, PCR, vaccines, variants... and whatever may arise, depending on the current pandemic wave.
During all this time I have surfed the waves, until the sixth one has wallowed me. Yes, last Tuesday I tested positive so I write these letters from my room, in the (blessed) solitude of my confinement. Today I write as a patient, and not as a disseminator, with the simple objective of normalizing and empathizing with a situation, testing positive, that two years later continues to turn every home upside down when the time comes.
My first covid, Sparks.
There is something especially frustrating about getting infected in this sixth wave. And it is that those of us who until now had not been infected (and also had overcome the Christmas gymkhana) were very 'grown up' and were already joking, deluded, with donating our body to Science. For their part, those who had already been infected once, twice and even three times, thought that they had already dealt with the bug and it was not their turn to confine themselves anymore. Whatever group you're in, frustration is guaranteed.
I'm positive, now what?
On Tuesday night he had a fever and a slight scratchy throat. "This smells like a bug," I thought. I did an antigen test and with the negative result, and also with the fly behind my ear, I went to bed. After a night in Toledo, with fever and chills, I got up at 7:00 am and took another test. This time the line of the T was marked even before the C: "It's positive" -I said to my husband, who watched the scene, very attentive, sitting on a stool in the kitchen-.
Hearing my words he jumped like a spring and snapped at me:
- You're without a mask!
- And you in pajamas! And I remind you that you just got out of bed with me.
- Yeah, but... now you're positive!
And while he was saying this he ran away. He came back very serious dressed in his FFP2 and from the other side of the kitchen island, like a bullfighter behind the barrier, he threw a mask at me, like a frisbee.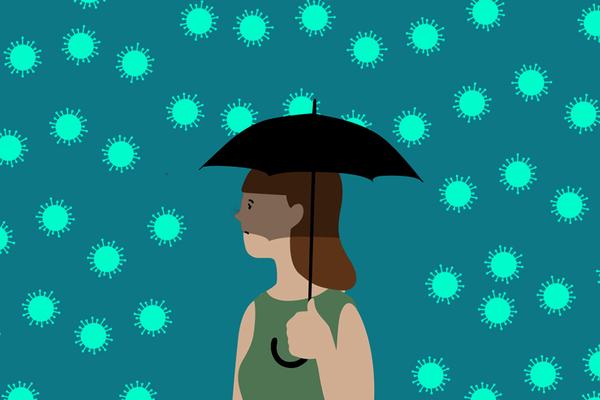 - Do me a favor and put it on.
And with that said, he zoomed out of the kitchen.
I'm not one to cry, but between the fever, the stick through the nose, the Frisbee mask, the tension and the frustration of finally being knocked over by the sixth wave, a few tears escaped me. I chased him down the hall and threw myself into his arms. Yes, I know the theory... that you don't have to hug... but my husband and I had gotten out of the same bed ten minutes ago and for the first time in my life, I needed some love.
- Where are you goingssssss, beautiful? he said, throwing his arms out like a zombie and taking two steps back as he approached me.
And zombie-husband, who knows the theory better than I do and at that moment proved to have more head, left me in the middle of the corridor half-embracing and went straight to our room.
He opened the window, took a suitcase and began to open drawers and put away a pile of clothes. Crazy, like when in the movies someone gets carried away and leaves home out of spite.
I got into bed shivering (remember that the window was open) and from there I heard him review aloud like someone reciting the Lord's Prayer those protocols that I have recounted so many times, but that when you have to implement in the first person it is difficult to remember. Someone had to put sanity. At least try it:
- Let's see... the children only take one dose... so there is no other choice: if the contact is from a cohabitant they have to confine themselves. Now you have to write to the teachers for online classes, to the man on the bus on the route... Can you? he said, raising his head to look at me as he rifled through a drawer from which he was taking handfuls of socks.
I watched the scene in astonishment from the bed. Now my children, in addition to my children, were "close contact partners":
- Well... I'm cold and the truth is that the last thing I want is to take my arms out of the Nordic. You write that I have no body. Hey, what are you going to do? You are vaccinated so you are exempt from quarantine and you can go to work... But if you can stay at home, much better. Can you stay home?
- Yes, but to sleep I go to the guest room
- Don't worry, honey, that was already clear to me.
- Okay... don't take it the wrong way, you're positive and I...
- Don't worry, that has ALSO become clear to me.
- Okay. And to the children... who of the two tells it?
- Shall we split up? Have I missed something? Which is just COVID-19, for God's sake!
And with that said, he left the room with the suitcase in one hand and the running shoes in the other. For a moment I thought to run away.
Two minutes later I heard cheerful little voices on the other side of the wall.
- Live! Hurrah! A week without school!
From what could be seen, the rest of the close-contact-cohabitants, blood of my blood, were also highly concerned about their mother's COVID-19.
It could have been worse...
If the scene seemed tragic-comic to you, a friend told me that her husband, at this very point, directly left home. But 150 km away. It must have been a painting to see him come out of the portal dragging a suitcase with his socks sticking out, in his pajamas and with his FFP2 on. I was lucky and my husband stayed. I guess he only did it because we had a couple of issues (two kids) to work out. For that and because his mother catches him far away, even more than 150 km away.
No, I'm not alone. Each positive triggers different reactions in its corresponding home. Reactions that can range from denial, anger and frustration to sadness through fear. Sometimes, paradoxically, everything is sprinkled with a certain relief, because at last the bug has shown its face and the mystery has been cleared up. But, there is no doubt that each positive turns the whole house (and emotions) upside down.
Therefore... inform yourself, that something remains
After two years spreading the word about the coronavirus, now that it's my turn, I understand better than ever how complicated it is to "do things right". Doubts will arise in all homes about how to isolate a positive person, about who is exempt from quarantining, about when to lose confidence, about when is the best time for the cohabitants to take a test.
And yet, it is still more important than ever to know how to act so as not to spread the virus. Therefore, find out. Look for official sources and be prepared. Because when the two lines show up at your door... paracetamol will be easy to get, but to confine yourself you have to arrive moderately learned or your nerves can play tricks on you.
Courage to all and take good care of yourself. Here I stay... confined and waiting for the day to come for them to give me the half hug they owe me.
---
According to the criteria of
The Trust Project
Know more
CoronavirusWhat treatments are effective against omicron and can stop infections?
Health Experts warn of "massive reinfection" of omicron
Coronavirus "Omicron and Delta are two pandemics: the curve will drop shortly if the first variant prevails"